Gratiot Lake Conservancy
Box 310
Mohawk, MI 49950





The Gratiot Lake Conservancy (GLC) is located in Keweenaw County in the Upper Peninsula of Michigan. Gratiot Lake Conservancy began as a 64 acre preserve centered around the Noblet Field Station on land acquired by Lizzadro Farms which was donated as a preserve. Soon after, Mary Lizzadro, who had grown up in Wolverine in the UP and had an abiding love for the Keweenaw, donated an additional 240 acres with 8,000 feet of shoreline to complete the original GLC preserve and to protect this resource for future generations. GLC later acquired Bammert Farm, a 466 acre parcel located about 2 miles from Gratiot Lake. Including more recent donations of land in 2004, 2013, 2015, and 2018, the nature preserve at the Lake now includes over 510 acres with over 14,000 feet of shoreline. This combined with GLC's Bammert Farm parcel comprises the approximately 975 acres that GLC has preserved. GLC also holds the conservation easement on the Little Gratiot River Wilderness. (See below)

An important mission of GLC is to conserve and protect Gratiot Lake and the land within the Gratiot Lake watershed. Through educational programs, training, and materials, the Conservancy encourages good stewardship of the watershed and an understanding and appreciation of the history, ecology, and natural beauty of the area. Projects at Bammert Farm include wildlife habitat restoration, archaeological research focusing on its history as a farm supplying Phoenix and Central mines, sustainable forestry, a botanical survey, and educational activities.

The Noblet Field Station located on the original preserve remains as a staging area for many of the Conservancy's activities.



| | | |
| --- | --- | --- |
| | Get form for mailing donation to GLC | Aerial Photo of Gratiot Lake by Neil Harri of Aerial Photos |
---
Lizzadro Farms Donates "Sandy Beach" Land (2018)
GLC is very happy to announce the recent addition of a 184.46 acre parcel to the Gratiot Lake Preserve. This parcel is the most recent gift of land from Lizzadro Farms, Inc. Much of its 3,000 foot stretch of shoreline is known by residents at Gratiot as "Sandy Beach." The lakeshore is a mix of sand and of cobble stretches. Inland is a mixed hardwood/conifer forest and wetlands. The Little Gratiot River snakes its way through a portion of it. The land is an especially significant conservation addition because it is contiguous with the Little Gratiot River Wilderness which forms a nearly intact wildlife corridor to the Bete Grise Preserve and to Lake Superior. It abuts the portion of the Gratiot Lake Preserve which includes the Noblet Field Station.

---
Little Gratiot River Wilderness Conservation Easement
Along with Keweenaw Community Forest Company (KCFC), Gratiot Lake Conservancy has participated in creating a wilderness area known as the Little Gratiot River Wilderness (LGRW) as part of its watershed stewardship. Gratiot Lake, Deer Lake, and Lac La Belle are linked by the Little Gratiot River and they comprise a portion of the Bete Grise Bay watershed. The approximately 3600 acres that make up the Little Gratiot Wilderness buffer and protect most of the Little Gratiot River corridor which runs from GLC protected lands on the west to the Bete Grise Preserve on the east. This land will remain in its natural state in perpetuity.
KCFC owns the property and GLC holds the conservation easement on the Little Gratiot River Wilderness.
The area is open to hiking, fishing, berry picking, bird watching, and nature study.

For further information about LGRW please contact Keweenaw Community Forest Company
at 906-370-7248.
---
Recent Additions to GLC Preserve at Gratiot Lake
In August of 2015, GLC purchased property consisting of 2 ½ acres of wetlands, cedar swamp, and a 200 foot stretch of beautiful sand beach from the Lantto family in a bargain sale. This addition to the Gratiot Lake nature sanctuary was made possible with money from the GLC's Land Acquisition Fund. The parcel is adjacent to the recently added GLC land on the west end of Gratiot Lake. Approximately 2,275 feet of shoreline is now conserved on the west end of Gratiot. This area is accessible by canoe, kayak, and small watercraft—a nice spot to take a break from paddling and to enjoy a stroll along the beach
.

In 2014, we announced the donation to GLC of 18.75 acres with approximately 2075 feet of shoreline on the west end of Gratiot Lake. The land was donated by Lizzadro Farms in December of 2013. This conservation area includes some upland forest but consists mainly of cedar swamp and other wetlands. It can be accessed by canoe, kayak, or other small watercraft for low impact activities such as hiking and birding. Wildlife observed in recent years on this lakeshore include river otter, beaver, bobcat, black bear, deer, bald eagles, loons, kingfishers, ducks, and great blue heron. A botanical survey of this nature sanctuary began in May of 2014.

A view of a portion of the shoreline previously donated to GLC in 2014.
---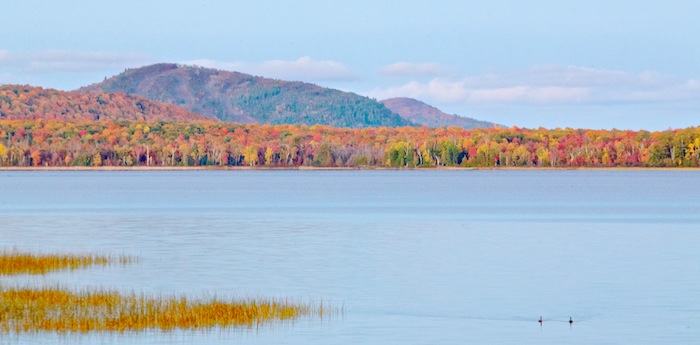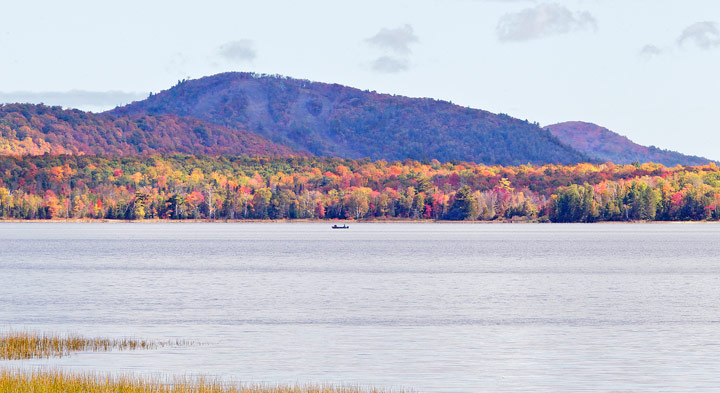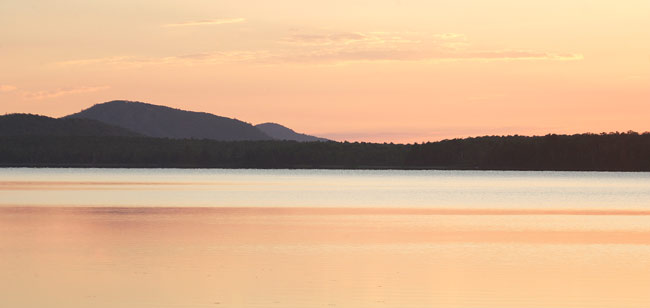 Sunrise on Gratiot Lake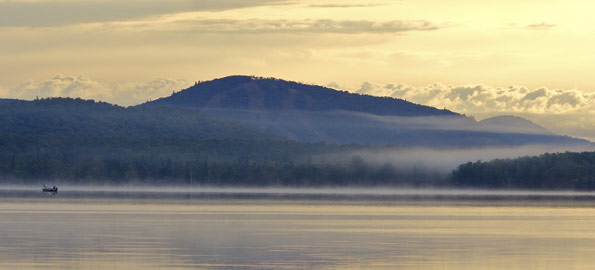 Lightning over Gratiot Lake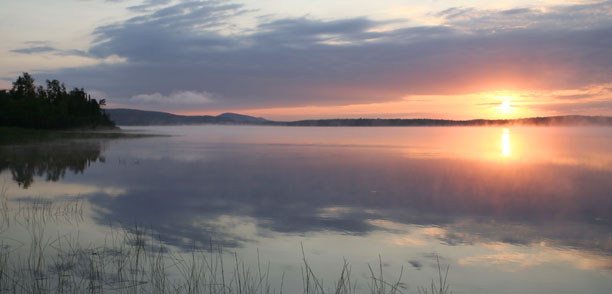 Water's Edge
You will find all the GLC news that's fit to print in the Conservancy's newsletter, Water's Edge. The newsletter is published twice a year and sent to Gratiot Lake residents. It includes articles about GLC programs, articles on the ecology and history of the Lake and its watershed, and information for landowners about good stewardship practices. One reason most of us enjoy being at the Lake is the wonderful opportunity it affords to observe wildlife. Water's Edge would like to report on sightings of special animals or intriguing animal behavior around the lake. We are also interested in gathering information and stories related to the lake and the history of the area to include in Water's Edge. Please don't be shy if you have something to share!
If you are not on the Water's Edge mailing list and would like to receive a copy or if you have information, animal sightings, or "Gratiot Lake Stories," or history to share, contact the GLC Program Director at director@gratiotlakeconservancy.org.

Special Notice
Many of these pages have photos and video that require a high speed connection to work without lengthy download delays. If you do not have a speedy connection, you can still view all of the material without lengthy downloads by contacting Director@GratiotLakeConservancy.org and asking for a copy of this website on CD. The CD will work with your browser just as if the material were on-line but there will be no delays waiting for photo and video to download.



Golden Pasty Awarded
January 2006